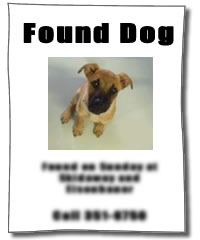 We at Animal Services Shelter want to assist you in your efforts to reunite a found pet with its owner.
First, please Report the Found Pet to Animal Services. This report can also be submitted in person, or via fax at (912) 201-4399.
If you are unable to confine the animal, please call (912) 652-6575 Monday - Friday 8 a.m. - 5 p.m. If you are unable to confine the animal and it is after hours or the weekend, call 911.
A found dog or cat must be scanned for a microchip, and the animal must serve a 3-5 day stray hold.
You may bring the pet to Animal Services (located at 7211 Sallie Mood Drive, Savannah) where we will scan and impound it if you do not wish to hold the animal at your home for the stray period. You may also go the Humane Society of Greater Savannah (located in front of Animal Services) or a local veterinarian to have the animal scanned for a chip. If a chip is found, shelter or veterinary staff will make contact with the owner.
If no chip is found or direct contact cannot be made with the owners, dogs are held as strays for 5 days and cats at least 3 days to give the owner time to come forward.
The 3-5 day stray hold begins when the report is submitted. After the hold period is over, the animal may be rehomed.
Please also consider posting this pet in Lost and Found Pets in Savannah GA.